WELCOME TO WWW.DTWATCHES.COM
ebay SELLER since 1999 with 100% positive feedback!
SOLD! SOLD ! SOLD!!
Rolex Oyster Perpetual Date Gold Cap Case ref 15505, Yellow Gold Bezel. (Stock 15505070701)
Serial 8.70 million about Year 1985--1986. Sharp Champagne Gold Tone Dial. No Paper. No Box
SOLD! SOLD ! SOLD!!
NO PAPER. NO BOX
Rolex Oyster Date model ref. 15505 automatic watch. Stock 15505070701 SEND ENQUIRY
Gold cap case.
VERY GOOD running and outlook condition
Original champagne gold tone dial in excellent condition with T dial. NOT re-done dial
Serial 8.70 million dated about 1985-1986
LUMINOUS function NOT works. Original plastic cover.
NO PAPER. NO BOX
About 36mm diameter with the crown. About 34mm diameter without crown.
WITH HOLES CASE. I BELIEVE THE CASE HAS BEEN VERY SLIGHTLY POLISHED.
Original plain gold BEZEL. SOME HAIRLINES
Original Rolex Chronometer GRADE cal 3035.
Quick set date and hackset second function.
Non Rolex leather band.
Case with normal hairy signs.
PLEASE CLICK HERE FOR 52 PHOTOS
PLEASE CLICK HERE FOR 52 PHOTOS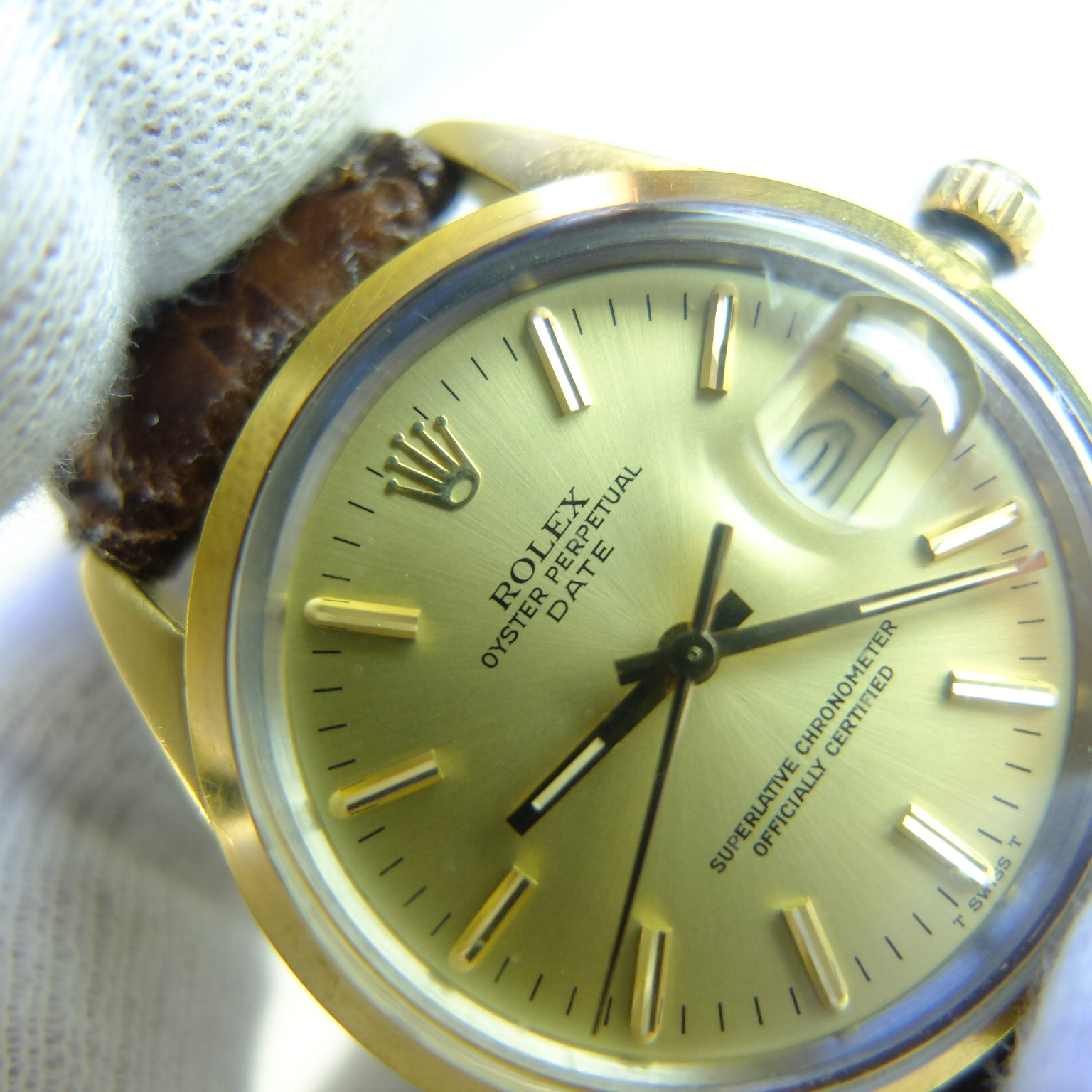 PLEASE CLICK HERE FOR 52 PHOTOS
PLEASE CLICK HERE FOR 52 PHOTOS
PLEASE CLICK HERE FOR 52 PHOTOS
PLEASE CLICK HERE FOR 52 PHOTOS
SOLD! SOLD ! SOLD!!

 

 

*********************************************************************

I HAVE OTHER WATCHES ON MY PRIVATE SITE : PLEASE CLICK HERE

IF YOU ARE INTERESTED, PLEASE INFORM ME... :_)

To Join My watch Sales Newsletter, Please Click Here!!

Payment :

A) If you are in the USA, direct bank deposit to our US bank account

B) International bank to bank money wire to our Hong Kong account

C) Paypal is accepted but have to add 4% and wait for 5 business days for clearing to fight against chargeback/abuse of credit cards!

 

Delivery:

Fixed USD50- (pay by buyer) by EMS SpeedPost WITH INSURANCE COVERAGE!

No P.O. Box address accepted.

Once the item past to EMS Speedpost, We shall provide you with the tracking number. Then we will NOT be responsible for any liability.

 

For more information of EMS SpeedPost, please refer to http://www.hongkongpost.com/speedpost/eng/index.htm

 

We DO NOT ship to Italy, middle East, Africa.

 

Return Policy:

If for any reason(s) you don't satisfy, please return the original watch and packing within 7 days from your receiving the item. We shall arrange refund. Please be noted that there will be a re-stocking cost of 20% of the selling price. The returned item should be sent back in 100% of our delivering condition.

The refund shall be made via paypal.com ONLY!

Your pyrcgase is a part of the contract and means you accept all the terms and condition listed above.

For questions, please feel free to contact us! HAPPY BUYING!!

SOLD! SOLD ! SOLD!!

 

Join My Newsletter To be Kept Informed of New Watches In stock!!!

Join My FACEBOOK Page, direct discussion for buying of Pre-Owned Watches!